Hello. I'm Paul.
I use a combined approach with front-end development, copywriting and photography to help you build rapport with your audience.
This means front-end development based on real data to elicit what works. Landing pages and ecommerce websites should attract and convert. So show value and spark desire.
I write articles and conduct interviews to increase brand engagement, as well as photography and video with social media marketing.
Use landing pages with a clear call to action to convert in an appealing and simple way. Show value but don't push too hard.
Check out this sales page for web ads from Turista.NU..
Ad pitch for Swedish Turista.NU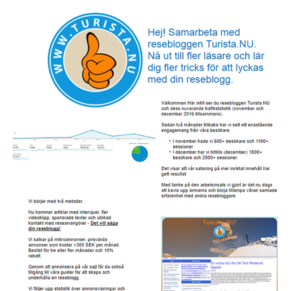 Articles should be useful and share knowledge and inspiration. Attract visitors to come back for more.
Too many think that people will be interested in pure sales pitches. Give something away for free and use it as a teaser for other products or services. This is called customer value optimization. In short, it means that you need to attract your customers gradually so that they become loyal and returning customers.
Here are a few recent examples:
Europe Zig Zag takes the pulse on glamping! – For Europe Zig Zag.
Improve your fitness routine with insights from the male modelling world – For IT Pro Workout.
Explore Europe by Rail – The free guide for Europe Zig Zag.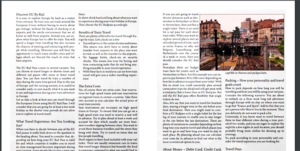 You need to engage over a longer period of time with your customers or clients. That's how. Anyone can slap up a web page with some text. You need to engage people with visually appealing landing pages and real video and photos. With real I mean that your content has to build rapport with the person that visits your landing page.
I can help you with this..
Design and development of landing pages, responsive web themes and CRM user interfaces.
Write articles and conduct interviews that are based on your product or service.
Social media marketing campaigns for Facebook and Instagram with well-crafted strategies to reach your target audience.