I write promotional texts – To build customer interest and keeping it
The aim is as simple as it is exciting, convert those visitors to repeat customers. Engage them and lead them to the purchase with smooth and engaging text.
Weaving words together to increase brand engagement
I create stories with words so that your customers raise their eyebrows and read my promotional articles with a desire to learn more. I write stories of products and services with tales of the individuals behind it all.
Who created this? Why did they do it? Who did they create it for?
The personal stories and interviews are vital to bring your customer one step closer to your company. This forges a personal relationship that is an important step towards brand loyalty. The same customer is much more likely to bring repeat business to you if you have shared content that describes your brand and the people behind it.
Check out my portfolio examples of brand engagement..
I write articles and conduct interviews to increase brand engagement, as well as photography and video with social media marketing.
Use landing pages with a clear call to action to convert in an appealing and simple way. Show value but don't push too hard.
Check out this sales page for web ads from Turista.NU..
Ad pitch for Swedish Turista.NU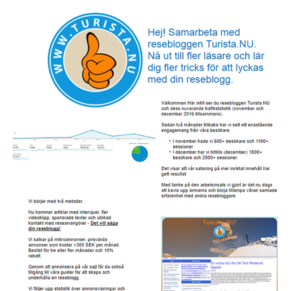 Help your readers with useful information = Attract attention and customers
Too many think that people will be interested in pure sales pitches. But they forget to actually help their potential customers even before the first sale is made.
So help your potential customer with free and useful information. This serves as a teaser for other products or services and is called customer value optimization.
In short, it means that you need to attract your customers gradually so that they become loyal and returning customers.
Here are a few more examples:
Europe Zig Zag takes the pulse on glamping! – For Europe Zig Zag.
Improve your fitness routine with insights from the male modelling world – For IT Pro Workout.
Explore Europe by Rail – The free guide for Europe Zig Zag.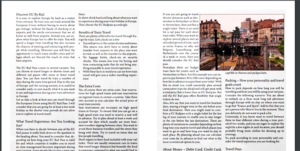 Enter social media – Facebook and Instagram
With Facebook and Instagram campaigns you can reach more people interested in your service or product. There is no time to sit idle, social media is all the hype and a rich imagination is needed to get people's attention!